An extraordinary day of violence and tension unfolded in Europe with an attempted military coup taking place in Turkey while France was still in a state of shock after a terrorist atrocity which claimed the lives of 84 people.
Just hours after the Turkish government had expressed sympathy over the killings in Nice it was facing a struggle for survival after a faction of the armed forces declared a takeover and the imposition of martial law.
Soldiers took over a TV station and strategic points in Istanbul with tanks at the airport while warplanes flew over the capital, Ankara. President Recep Tayyip Erdogan, the 'strongman' who had been ruthlessly vesting himself with power was forced to use a mobile phone and FaceTime video chat to claim that he remained in control. The coup attempt, he declared in the interview over mobile phone, would be met with a "strong response" and a " heavy price" would be exacted from the plotters.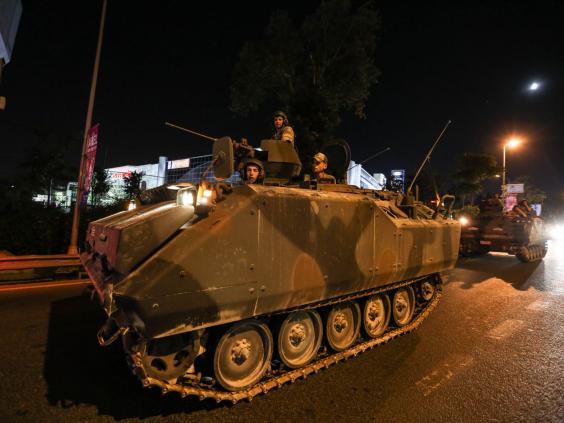 The President was believed to be on holiday, possibly at Marmaris, but eventually managed to return to Istanbul early this morning – in a sign of his confidence over the outcome. 
Once there Mr Erdogan said the coup makers "are a minority within the military." The attempted coup was "an act of treason" and is a reason to "clean up" the armed forces, said Mr Erdogan.
According to Mr Erdogan, "Turkey has a democratically elected government and president. We are in charge and we will continue exercising our powers until the end. We will not abandon our country to these invaders. It will end well." 
Mr Erdogan and his supporters blamed the Islamist Gulen movement of the US-based Islamic cleric Fethullah Gulen, once considered his allies and now his enemies, for the coup. However, the movement denied any involvement in the Turkish military coup attempt. The Alliance for Shared Values said "we condemn any military intervention in [the] domestic politics of Turkey." The military group accused the government of eroding secular law, the legacy of Kemal Ataturk, and announced that a new constitution would be unveiled.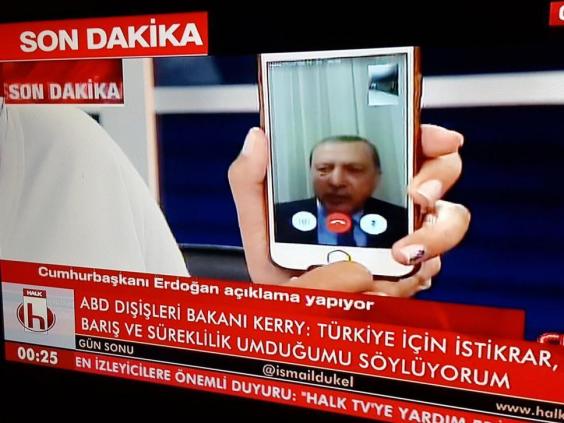 It remains unclear just how much support the attempted coup has among the Turkish military the chief of the armed forces, General Hulusi Akar, was thought to have possibly been taken hostage at his headquarters by the plotters. Mr Erdogan said after he arrived in Istanbul that he had no extra information on his whereabouts.  
They were clashes between the military and police in several areas. A Turkish military commander said fighter jets had shot down a helicopter used by the coup plotters over Ankara. State-run Anadolu news agency said 17 police were killed at the special forces headquarters there. The NTV station said 42 people in total had been killed in Ankara, quoting the prosecutors office. Turkish goverment officials said dozens of soldiers who took part in the attempted coup had been arrested. 
Prime Minister Binali Yildirim, speaking on NTV, said that he had ordered the "annihilation" of military planes used by coup plotters. He said military jets had taken off from an air base in Eskisehir, east of Ankara. Government forces appeared to be gaining the upper hand in a number of areas as the night wore on.
Crowds appeared to be answering a call from Mr Erdogan to take to the streets, defying orders by the coup leaders to stay indoors.
"We have a prime minister, we have a chief of command, we're not going to leave this country to degenerates," shouted one man, as groups of government supporters climbed onto a tank near Istanbul's Ataturk airport.